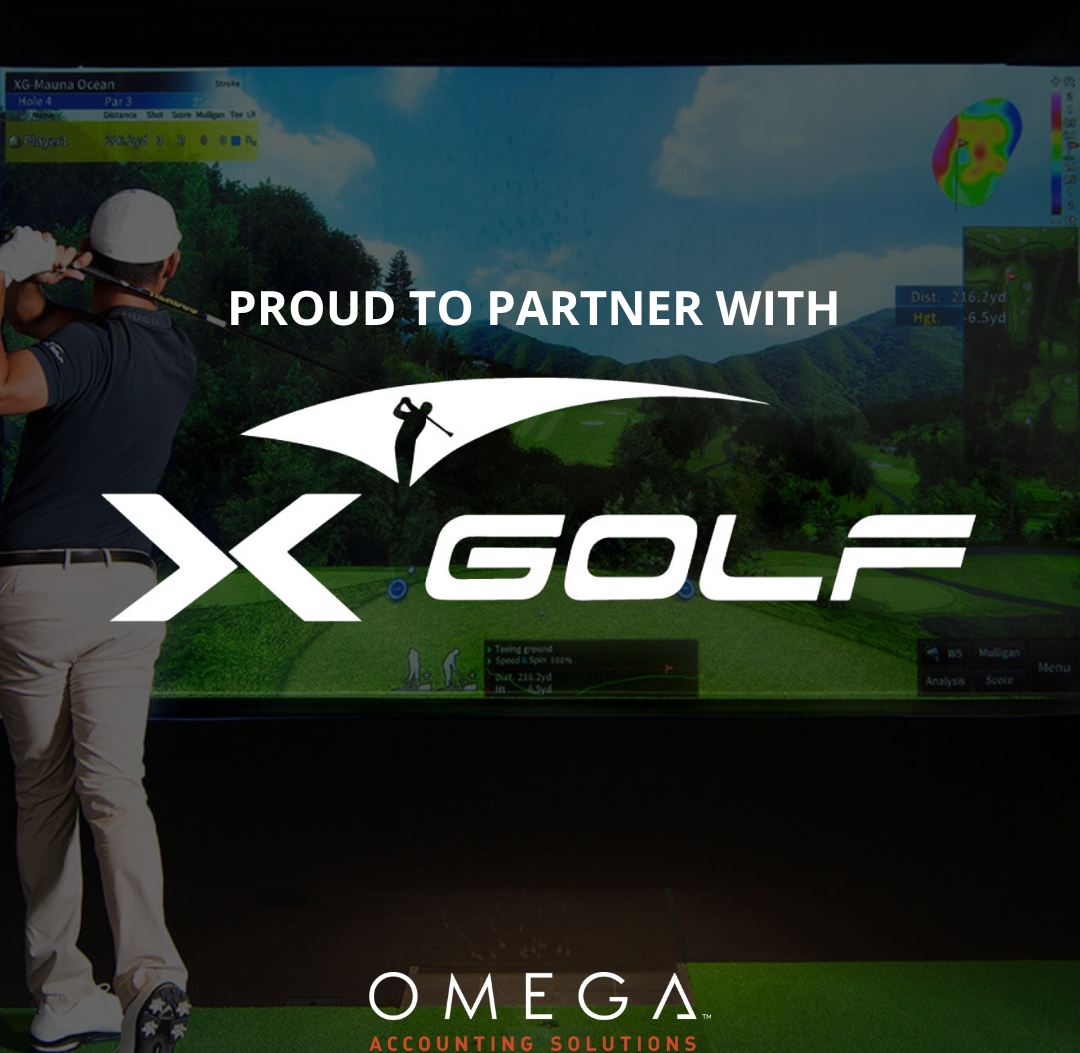 X-Golf America Partners With Omega to Raise ERC Tax Credit Awareness
---
IRVINE, California – Omega Accounting Solutions, an accounting and data firm that empowers small businesses to make informed decisions through powerful accounting, has been a leader in helping small businesses obtain their Employee Retention Credit (ERC). The company has partnered with X-Golf America, an entertainment golf simulator concept with more than 125 locations open or in-development across the U.S. and Canada, to highlight their services across the U.S. in open venues, across digital platforms and through sponsorship of national tournaments. By partnering with X-Golf, Omega will reach new audiences of small business owners and spread awareness of ERC program benefits.
"X-Golf America venues offer the most accurate and innovative indoor golf simulator technology, attracting a wide range of people, making them the perfect places to tap into small businesses," said Jay Woods, Founder and President of Omega Accounting Solutions. "X-Golf franchisees are not only small business owners themselves, but they are also neighbored by other small businesses and serve loyal customer bases that we can help claim the tax credits they've earned."
The ERC is a powerful tax credit passed during the pandemic by the federal government to aid small- and mid-sized businesses. It provides qualified businesses with a tax refund on previous overpayment of taxes during the crisis, allowing them to reinvest in their business, pay employees and keep their doors open.
"X-Golf America understands our franchisees and customers alike are the lifeblood of their local economies and that the pandemic created an environment that put many of those businesses at risk," said Ryan D'Arcy, CEO and president of X-Golf America. "Our partnership with Omega will provide avenues to amplify the message and help small businesses understand and access the Employee Retention Credit."
America's small businesses continue to face labor shortages, skyrocketing costs, soaring interest rates and ongoing concerns of a potential recession. A new survey commissioned by Omega reveals that small business owners and decision-makers remain mistaken, confused and lack facts about their ability to qualify or resources to handle the filing. This new partnership can help alleviate those issues.
"The ERC tax credit is three times the size of the $800 billion PPP fund—approximately $2.4 trillion," said Woods. "And while billions of dollars in unclaimed aid is still available, many business owners are misinformed and do not know how to qualify. At Omega, we believe it is our duty to help them."
Survey results found that 81% of small businesses felt that they were at a disadvantage without adequate accounting or financial direction, while 31% of respondents said the tax or financial experts that they typically rely on for their tax needs haven't been able to provide enough accurate ERC guidance. Omega analysts believe these findings indicate that small businesses are often underserved when it comes to tax credits.
ABOUT OMEGA ACCOUNTING SOLUTIONS
Omega Accounting Solutions is an accounting and data firm that empowers small businesses to make informed decisions through powerful accounting, advanced analytics and tax credit expertise. The Irvine, Calif., firm founded by Jay Woods in 2007 works with small businesses, CFOs, controllers, accountants and software developers to collect, integrate, analyze and present essential data that empower healthy corporate operation and growth. Omega's tax credit division has specially trained teams to help businesses claim the Employee Retention Credit (ERC) and Research & Development tax credit. In 2022, Omega introduced a new funding division, Omega Funding Solutions (OFS), a third-party lender offering short-term bridge loans to those organizations anticipating ERC refunds. Learn more about Omega Accounting Solutions.
About X-Golf America
X-Golf is the developer of a high-end golf simulator, the centerpiece of an entertaining indoor golf and bar-restaurant concept. The technology is the most comprehensive indoor golf tracking system available, giving customers the ability to accurately replicate all golf shots, including short game. Measuring ball speed, launch, direction, and spin along with club path, impact, and speed, the X-Golf system performs over 6,000 calculations per second. Additionally, every location offers a full-service bar and restaurant serving beer, wine, liquor and a number of food options. Since first opening in 2016, X-Golf has successfully maintained 80+ locations and plans to double in size again in 2023. For additional information, visit www.playxgolf.com.