The ERC Program in 2023: All You Need to Know
---
Is your small business still recovering from the economic challenges of the pandemic? Have you looked into the Employee Retention Credit grant (ERC)? You've probably heard about this payroll refund program, but if you're still trying to figure out if it's for you, read on. This article will look at what the ERC program is, how to claim it in 2023, and everything you need to know about ERC funding for your business.
What is the ERC Program?
As we've talked about before, the ERC is a payroll refund program that rewards businesses for keeping their employees working during the pandemic and continuing to pay their payroll taxes. Created under the CARES Act, the ERC money program can provide small business owners up to $26,000 per W-2 employee that worked for the business in 2020 and 2021.
The ERC grant program is a tax credit originally designed by lawmakers to help financially strapped businesses keep running in the wake of the COVID-19 crisis and to keep employees working. Recognizing that local, state, and federal mandates impacted businesses of all types, employers qualify for the ERC grant if they saw a decline in gross receipts, had to limit their capacity or were forced to shut down for any period of time.
Is the ERC Program Real?
The ERC grant program is a real tax credit providing real payroll tax refunds to qualifying businesses across the USA. The good news is that qualifying employers can and should take advantage of the ERC program in 2023. The bad news is that there are a lot of pop-up tax credit companies and third-party ERC "specialists" with unscrupulous practices like failing to fully qualify a small business before processing an ERC credit, overclaiming the credit or charging exorbitant fees to process the claims.
Worse yet, many of these companies have only started up in the last couple of years and will likely disappear by the time the ERC officially ends in 2025, leaving the businesses that used them without recourse in case of an audit. It is essential for business owners to deeply vet an ERC provider before choosing to do business with them.
Who Qualifies for the ERC?
Most companies with up to 500 employees may qualify for this small business tax program.
Startups, corporations, LLCs, nonprofits, and everything in between, may be eligible for the ERC government program. US-based businesses in nearly every industry may find that they meet the criteria to receive ERC funding.
There are three basic qualifications for the ERC program that a company must meet:
Be based in the US.
Have employed between 5-500 full-time employees as of 2019.
Faced a significant disruption to regular business operations (income or shutdowns) due to government mandates or financial challenges caused by the pandemic.
Businesses that meet these criteria may be eligible for the grant, though a trusted ERC partner can ensure a small business truly qualifies and build an ERC claim that can withstand an IRS audit.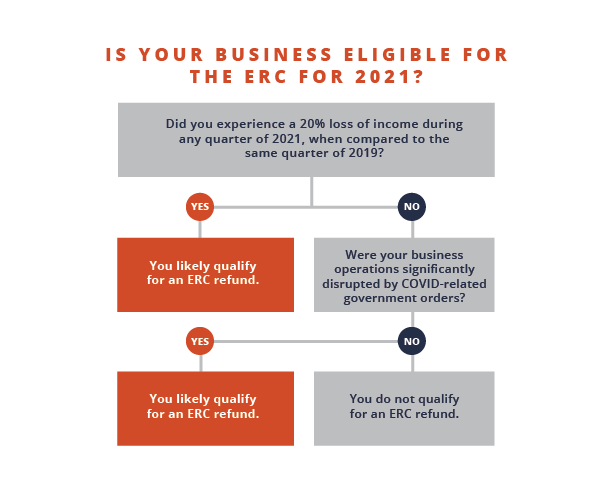 Do I Need the ERC?
Even if your business does not need ERC funding, it would be unfortunate to miss out on a payroll refund program your company qualifies for. If you continued to serve your community by employing staff and paying payroll tax, the ERC was designed for your business. If you meet the eligibility criteria, you have already earned this payroll refund. You only need to claim it before the ERC program deadline.
Can I Still Apply for ERC in 2023?
We are happy to report that you can still apply for ERC funding in 2023. The ERC program deadline has recently been clarified, with experts explaining that there are only two hard deadlines for the Employee Retention Credit: for all quarters of 2020, the deadline to apply for the ERC is April 15, 2024; for all quarters of 2021, the deadline is April 15, 2025.
How Do I Claim My ERC Refund?
While some internal accountants or CPAs have handled ERC claims for their businesses, we recommend working with an outside expert. The process can be difficult to navigate and complicated to process. It would be too easy to miscalculate or overestimate the credit amount, opening your company up to tax penalties or a potential audit. Likewise, if you underestimate the total, you miss out on receiving the full refund your company is entitled to get from the government.
It is best to have an experienced, specially trained team advising your business. Applying for the ERC tax credit program can feel like an enormous task, but fully trained tax incentive advisors will help your company determine your eligibility and guide you through the claims process.
Contact an ERC Program Expert
Omega Accounting Solutions' ERC grant experts can handle the entire program for your business, guiding you every step of the way. With a history of serving companies across a wide range of industries, Omega has helped thousands of small businesses prepare claims that can stand up to the rigors of an audit.
Unlike other ERC processors, Omega Accounting carefully builds a complete picture of your company's financial situation to ensure that you comply with all ERC requirements. Once you provide Omega's tax credit specialists with the needed documents, they will determine your credit, process it, and provide backup materials to show the government that your claim has been thoroughly verified.
Omega's ERC funding program even offers bridge loans for companies that need to manage financial obligations during the 6-12 months it can take to receive ERC funding from the government. Contact us today to get started on the Employee Retention Credit program!
---